Mutation 1.7 preview
This update brings a major new gameplay system to Plague Inc. in the form of Scenarios. Players must develop new strategies and approaches for 15 distinct scenarios covering a world economy destroyed by a US debt default – all the way through to the resurgence of the medieval Black Death!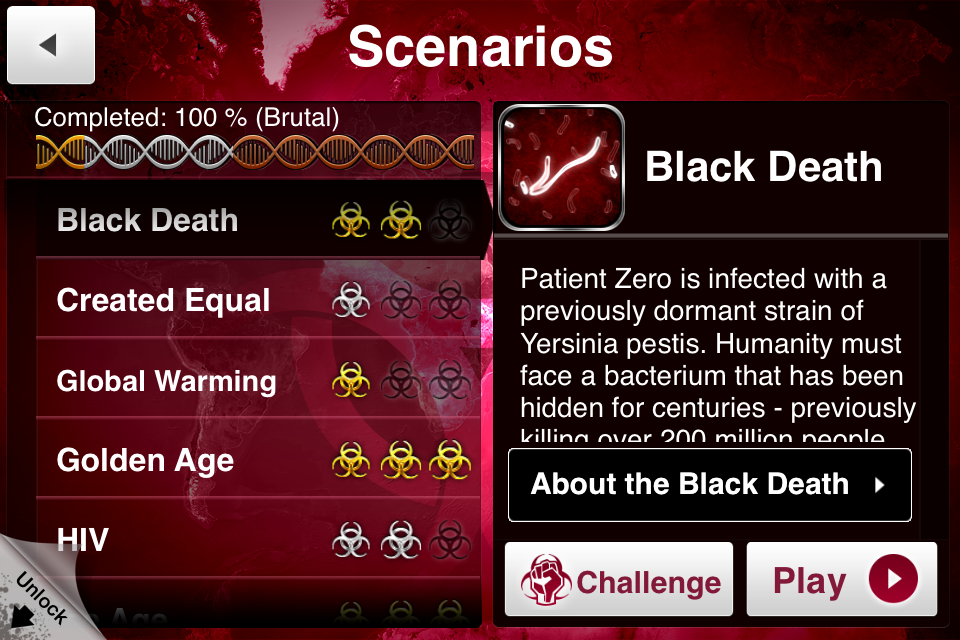 Scenarios significantly increase the amount of content for players – giving them new challenges and experiences which will test their skills to the limit.
There are two main types of scenario:
Real life diseases – begin the game with fully evolved, real life pathogens like the Black Death, Swine flu or HIV. Players can model how an outbreak would happen in real life as well as mutating the pathogen to try and get it to infect the whole world.
Alternative universes – choose a pathogen to infect a world that has been impacted by something like a US Debt default, an outbreak of xenophobia or a new mini ice age. Players can see how different events can shape the ability of the world to respond to global pandemics and work out how to best exploit the new conditions.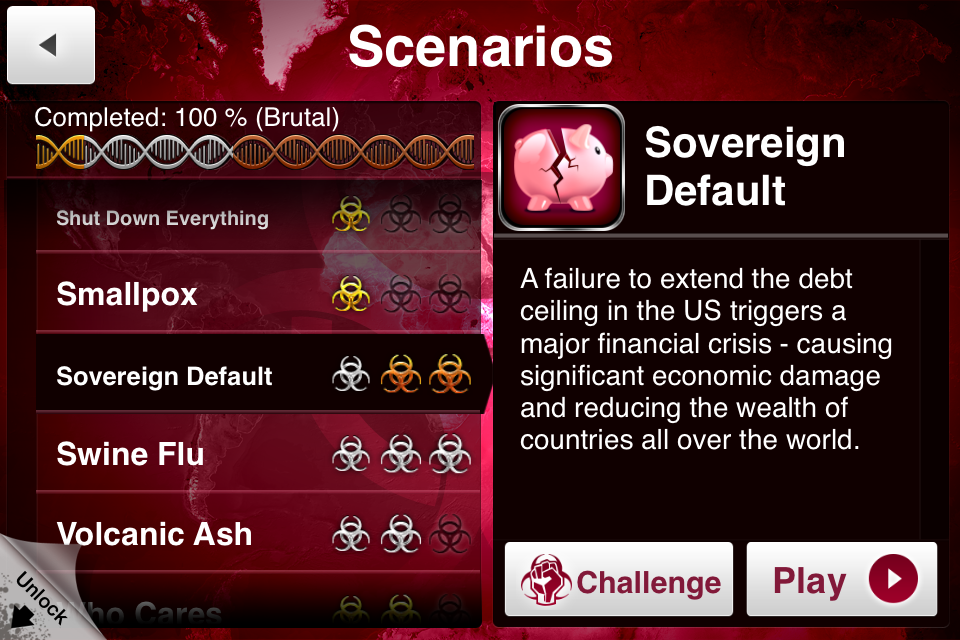 Example scenarios:
Sovereign Default: A failure to extend the debt ceiling in the US triggers a major financial crisis - causing significant economic damage and reducing the wealth of countries all over the world.
Black Death: Patient Zero is infected with a previously dormant strain of Yersinia pestis. Humanity must face a bacterium that has been hidden for centuries - previously killing over 200 million people.
Xenophobia: A rapid increase in hostility towards foreigners causes all countries to heavily fortify their land borders - significantly reducing the amount of cross border land traffic worldwide.
Release date and price:
November (iOS) November/December(Android)
There will be 15 scenarios on release with more to come in future updates.
2 scenarios will be free. An individual scenario will cost $0.99 or "All Scenarios" can be brought together for $2.99. Buying "All Scenarios" will also include all scenarios that are released in the future
Follow me on twitter for more information - link