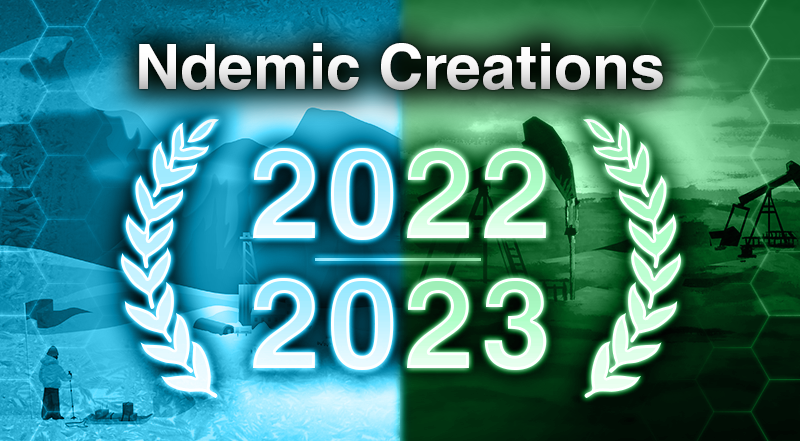 Hello Plague Inc. and Rebel Inc. players!
It's been another busy year for us here at Ndemic Creations and Plague Inc. even had its 10 year birthday! Continuing our ongoing commitment to support both our games, we released lots of new content, including Frozen Virus for Cure mode in Plague Inc. as well as Sand & Secrets, our first expansion pack for Rebel Inc: Escalation on Steam. We also spent a huge amount of time on our new, unannounced game!
As I have done at the end of each and every year, I wanted to look back and highlight some of our achievements and challenges, as well as talk about some of our plans for 2023.
Thanks to all our players for your support and enthusiasm.
Key Events from 2022
Official Scenarios released for Rebel Inc. on Android and iOS

Rebel Inc. Scenario Creator and Custom Scenarios released for Mobile

Plague Inc. was at the Global Pandemic Preparedness Summit

It was Plague Inc.'s 10th Birthday, and we had a huge Reddit AMA that made it to the front page with over 38,000 upvotes and nearly 2,000 comments!

We released the Spring Cleaning Update, with tons of bug fixes, improvements and additions for Rebel Inc.

Rebel Inc: Escalation's first DLC: Sand & Secrets released on Steam

Announced the next DLC: Dollars & Disasters

Plague Inc was showcased at the Science Museum in London at their "Injecting Hope" exhibition

Rebel Inc. continues to do great on the paid charts!

For the 10th (!) year in a row Plague Inc. was one of the top selling games of the year. On iOS it was #3 in Brazil, France, Italy and Turkey, #4 in UK and Australia, #5 in Germany and #7 in USA.

We worked very hard on our new, unannounced game!
Plans for 2023:
New content for Plague Inc. and Rebel Inc.

Keep working on our new game!
Be sure to follow us on Facebook/Twitter, join our Discord or sign up to our mailing list below to be the first to hear about any Ndemic news.
Stay safe and look after yourselves,
James and the Ndemic Creations team