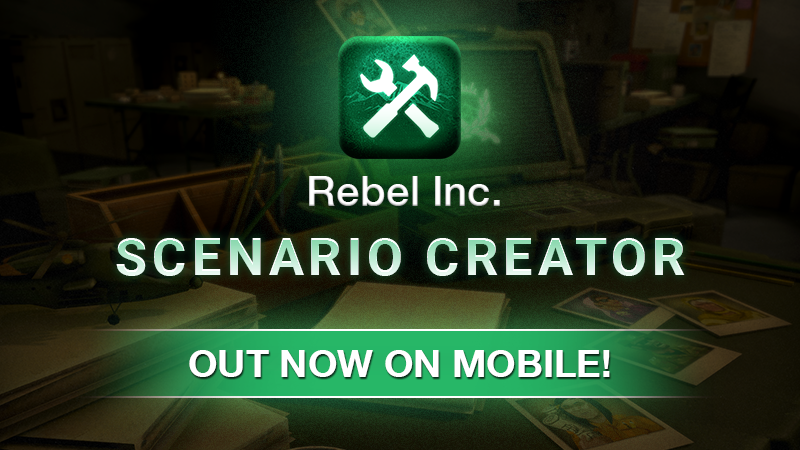 The Scenario Creator is here! Dive into the editor and develop your own custom scenarios for Rebel Inc. with this powerful yet easy to use tool. Create custom governors & tactics, edit regions, design challenges and build your own initiative trees, before sharing them with other Rebel Inc. players!
Create a Custom Scenario
Choose all the details of your Scenario! Pick difficulty, governors, regions, category, start year. Set the stage for your epic operation!
Custom Governors & Tactics
We've given you the tools to make the Governor of your dreams! Give them a custom name, upload a new portrait and then adjust their skills in the Initiative Editor! The Scenario Creator also allows you to create your own Tactics and Features with your own icons and text before editing their effects.
Change the Game
Dive into the nuts and bolts of the game's mechanics to configure Civilian, Military and Insurgent variables, radically changing the way Rebel Inc. plays!
Zones and Structures
Dig into the details of Zones! Adjust variables including Names, Population, Starting Control and more! Add structures to your Zones, including a variety of brand new ones such as Oil Derricks, Blockades, Arms Caches and Tunnels!
Take the Initiative
To really change the game and make truly unique Scenarios, you can edit and create your own Initiatives! Change their names, images and effects on mechanics, deploy Soldiers and Experts, or even activate Insurgent Tactics via Initiatives for extra deadly encounters!
Custom Scenarios
Not feeling creative? Boot up Rebel Inc and gaze upon a incredible selection of community-created Scenarios! From interesting twists on Rebel Inc. to sci-fi warzones and peaceful paradises, there's something for everyone!
Get Rebel Inc. to play the Custom Scenarios!